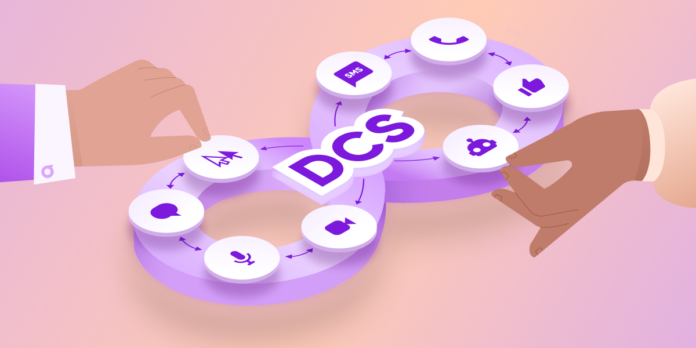 During times of economic uncertainty, it's more important to stay in touch with your customers about their financial needs. Yet, with challenges such as labor shortages and rising costs, it may feel more difficult to maintain personal relationships with your customers. The good news is that you can be cost-effective and efficient while maintaining those important relationships at the same time with Digital Customer Service (DCS).
DCS allows financial institutions (FIs) to maintain the human touch with live chat, OnScreen Voice, and video. Additionally, it offers collaboration features, such as CoBrowsing and screen sharing, and can enable efficiency benefits with automation. While digital 'omnichannel' service with channel choice is now expected, providing a seamless, continuous engagement across all channels is not. This is where FIs can really differentiate their digital experience.
With each point of contact, whether SMS, phone, chat, voice, or video, FIs provide a seamless, satisfying experience with DCS. Not only that, but they also build crucial trust and loyalty. This can help jump-start relationships with prospects, deepen current relationships, and reinforce loyalty for longer customer/member lifetime values.
Jump-Start Relationships
First-time home buyers are finding the current market especially difficult with rising interest rates, a volatile housing market, and high inflation. FIs providing important guidance at the right time can jump-start important relationships with these customers/members through DCS. Empowering customer service representatives (CSRs) to assist borrowers through the process is key in helping them find the right loan. With 80% of customers initiating customer service activities on their own screen, it makes sense to invest in a robust Digital Customer Service platform to serve them. Using AI-powered virtual assistants (such as Glia Virtual Assistants) early in the engagement can provide answers to basic, routing questions and help CSRs provide more high-touch, strategic support. A good virtual assistant solution helps CSRs to better understand customer/member needs, shorten the cycle time, and convert the business seamlessly.
Build Relationships
Through tight connections with your customers/members, you can also identify what other products or services they may need. This allows you to build the relationship, drive up revenue, and increase the customer's longevity. For instance, your small business customer may be short-handed and needs help with payroll processing. Offering to solve this problem for them builds trust and deepens the relationship. This is increasingly important as many are looking at more than one FI to fulfill their financial needs.
Beyond a seamless digital engagement, FIs can leverage digital collaboration tools to further accelerate processes and provide better service. With tools such as Call Visualizer and CoBrowsing, which provide you with immediate context, you can more efficiently guide your customers/members with their most pressing needs quickly and mitigate the possibility of losing their business by keeping them engaged.
Reinforce Relationships
When your long-standing customers/members need special attention, you want to be sure you are available. Not only that, you want to create the optimal customer experience making them feel valued. With DCS, you have continuous points of communication to provide excellent service wherever they are, which is essential for relationship longevity. Whether they meet you through voice, chat, or video, you can be sure that there will be no "dropped" lines of communication. With true ChannelLess™ Architecture, DCS provides one seamless experience that eliminates the disconnect.  

You don't need to sacrifice customer/member relationships for efficiency with Digital Customer Service. Its automation efficiency together with the human touch of your frontline team strengthen these relationships, which are the lifeblood of financial institutions. By solidifying these relationships, FIs can both retain customers and acquire new ones, providing greater opportunities for revenue growth and setting them up for success regardless of the economic winds. To learn more about personalizing your engagements to strengthen relationships, watch our video, Digital Customer Service Defined.