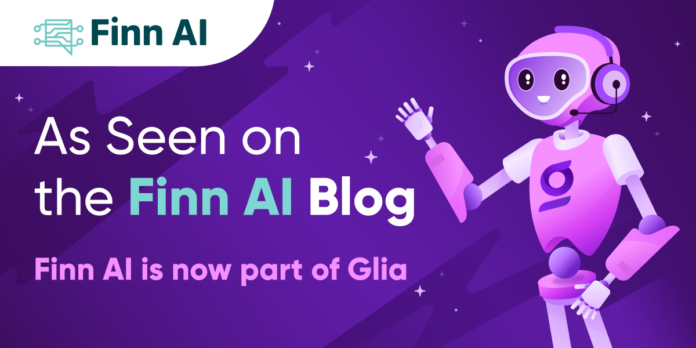 This post originally appeared on the Finn AI blog, which is now part of Glia.
Conversational AI banking provides opportunities for financial institutions of all sizes to move from impersonal 'selling' to personalized 'advising.' Through virtual banking assistants or 'robo-advisors,' banks can deliver a superior digital banking customer experience in a cost-effective way.
While building and training your first virtual banking assistant is a great achievement, it doesn't guarantee success. Many people have app fatigue and don't want to adopt yet another channel to engage with their bank. Some have been let down by underwhelming experiences with early conversational AI in other aspects of their lives. Once your banking chatbot is built, your next challenge is creating customer demand through education and awareness.
Only customer validation—measured by adoption rate—is proof that you've built a useful customer engagement channel. As a result, proactive marketing strategies and awareness campaigns will be key elements of your AI launch plan. According to McKinsey, AI adopters that combine strong digital capability with proactive strategies have higher profit margins and expect the performance gap with other firms to widen in the next three years.
We've outlined four ways to drive adoption of your virtual banking assistant and deliver real business results.
1. Encourage employee advocacy
Launch your virtual banking assistant internally to drive employee adoption and advocacy. The benefits of this will be twofold—firstly, your team will understand how to use the banking chatbot and assist in driving customers to use it; secondly, employee advocates will share the news with their own networks (via social media, word-of-mouth, etc.). Content shared by employees receives eight times more engagement than content shared by brand channels.
2. Engage industry influencers and fintech partners
Like employee advocacy, third-party validation is far more valuable than self-promotion. Engage industry influencers, financial journalists, and your fintech partners to raise awareness about the innovative ways you're leveraging AI to give customers more control over their finances. Focus on the human stories—how conversational AI banking increases financial literacy, how virtual banking assistants help people manage their money, and real customer stories—to pique public interest and establish yourself as a leader in the field.
ATB does a great job of positioning themselves on the cutting edge of AI banking innovation. Their partnership with the University of Alberta and key fintech players underlines their commitment to driving change in financial services through AI for the greater good.
3. Use paid and organic social media strategies
Drive engagement through your social media channels with compelling content. Boost organic content that's performing well and test some paid advertising to see if it drives adoption. With Facebook Ads, you can use choose the demographics, interests, and behaviors that best represent specific audiences and target them with a tailored message. For example, you may target 20-year-old women with student loan options and 30-year-old women with messages about mortgage options or starting a pension plan. Drive them to your virtual banking assistant for personalized advice.
4. Define your marketing KPIs
The best thing about marketing a technology like conversational AI banking is the metrics. You can measure everything from conversion and adoption rates to daily active users and the most common user interactions. As a starting point, you could adopt the startup metrics AARRR (acquisition, activation, retention, referral, and revenue) to measure the success of your virtual banking assistant.
Your marketing strategy shouldn't end once your virtual banking assistant is launched. As adoption grows, marketing campaigns should be focused on driving engagement and retaining active users. It's also important for the AI marketing strategy to evolve as the technology continues to advance to become a much bigger piece of the customer relationship.