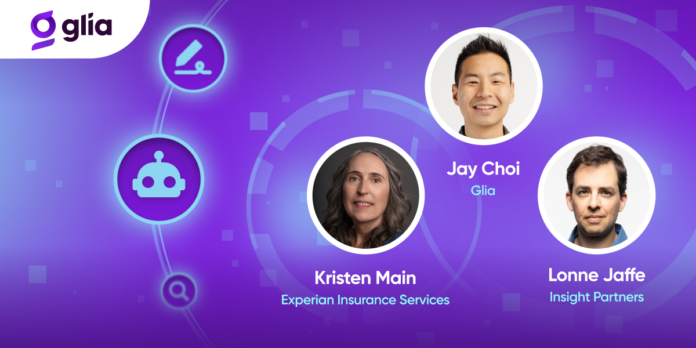 Unless you've just awoken from a year-long sleep, you've likely consumed your fair share of articles, videos, and other media proclaiming the transformative power of Generative AI (Gen AI), Large Language Models (LLMs) and ChatGPT. Please forgive me for adding one more to your list, but hopefully, you'll find this post different. I will provide additional perspectives and clarity to help you see beyond the hype and understand the opportunities, challenges, and risks these conversational AI software advances bring to financial institutions.
Artificial Intelligence automation in customer service is nothing new! Broad support for chatbots and virtual assistants has been a core part of the Glia Interaction Platform for many years. What IS new is the wide-scale accessibility and apparent ease of use of powerful generative tools that promise to change every aspect of our personal and professional lives—catalyzed by the general release of ChatGPT by OpenAI in the fall of 2022 and an avalanche of LLM-based offerings from big tech.
How Can FI's Sort Through the Gen AI Hype?
With so much promise and hype, how can a highly regulated industry like financial services use AI responsibly to improve call center efficiency, drive customer loyalty, and manage risk at the same time? Well, AI investor Lonne Jaffe at Insight Partners and Kristen Main, Director of Agency Operations at Experian Insurance Services, recently sat down with Glia's Chief Product Officer, Jay Choi, for a virtual fireside chat to exchange experience views and advice on generative AI and more with hundreds of FI attendees.  
We'll share some key takeaways below, but you'll want to watch the recording of From Hype to Help: Unpacking Generative AI's Impact on Customer Service to get the most benefit.
Observations on Generative AI in Financial Services
As a leading investor in AI, Lonne Jaffe has a ringside seat to the latest trends. He kicked things off by reflecting on AI's evolution from prediction and classification technologies (that served as infrastructure for application development) to the new "application-like" generative AI models, which have democratized conversational AI and enabled businesses to quickly add capabilities and experiment while shifting the balance of power.
Kristen Main shared that while everyone is jumping on the AI bandwagon, her focus at Experian Insurance Services is ensuring that the customer experience comes first while taking advantage of technology to enhance efficiency where appropriate. There are plenty of areas where companies struggle (like expense management) and are trying to figure out how to leverage human capital for complex, high-value tasks vs repetitive, menial tasks. Shifting important and more complex work to people while using generative AI to manage and automate simple and repetitive tasks can improve accuracy and efficiency AND level up employees for better engagement and retention.
We have to look at generative AI as an opportunity but figure out the guardrails so as not to introduce risk or erode customer trust—a HUGE part of what financial institutions are built on. It's important to do what is right and care for customers' data.
Please, AI and Drive Responsibly
Digging deeper, Lonne pointed out we can divide opportunities into internal and external use cases.
External use cases for generative AI have a whole set of new challenges around design, safety, compliance, organizational structure, privacy, and more. These are amplified for highly regulated financial services organizations, making them harder to adopt.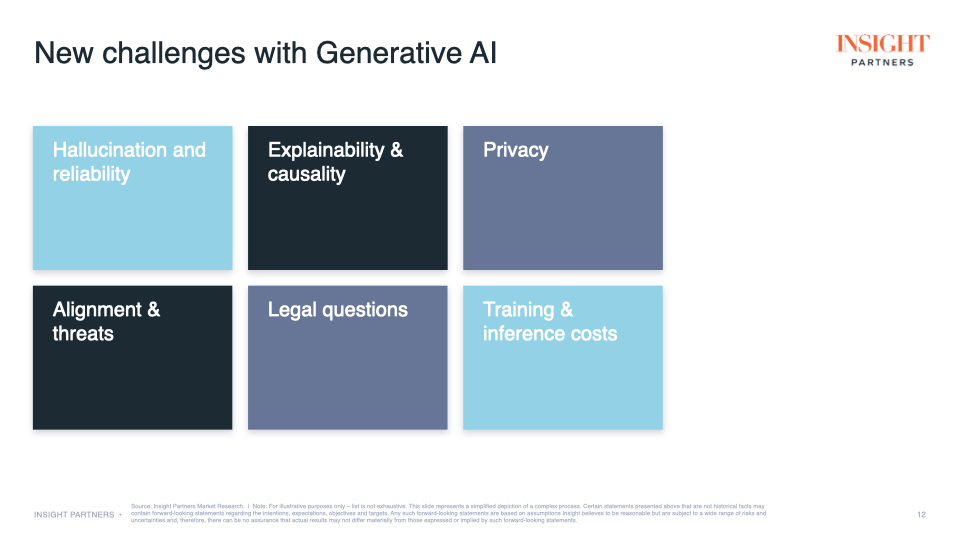 Things like AI hallucinations and reliability may be acceptable or even desirable in some industries (like fiction writing for example), but you can't have a banking bot saying inaccurate or mean things to a customer. Similarly, explainability, privacy, and sensitive legal questions can't be left to indefensible chance.
Internal use cases share some of the same challenges, and organizations are hungry for advice, best practices, and guidance for how to safely and securely implement and leverage AI technologies.
So, What Is [and Isn't] Generative AI Good For?
As the webinar progressed, both guests agreed that internal is a good place for financial organizations to focus—where AI can help the humans in the loop without compromising customer interactions. One example is using AI for initial drafts of docs, bot responses, etc., while benefiting from human judgment for final review and edits (nothing new—lower-skilled people have been doing early drafts forever). Gen AI can also be good for other internal tasks like note-taking, document summarization, research comparison, and workflow automation.
But, organizations still need to exercise caution for any external customer-facing use cases. Bots must be extremely reliable since you can't "maybe" transfer funds. You can't let a Gen AI-powered bot confidently give the wrong answer because the question was interpreted incorrectly. However, there is still an opportunity to use generative AI to refine responses to be more empathetic and less robotic or to help rules designers improve understanding. Even if not used directly for external interactions, new Gen AI tools can be a good copilot for customer-facing reps to enhance efficiency. These are just a few abbreviated examples our guests shared.
Practical Advice for Using Generative AI
When asked to share some advice, Lonne recommended creating an inventory of potentially relevant tasks within the enterprise and then setting a high bar on what to prioritize. He suggests starting with something that:
will be awesome if it works,
is likely to work,
won't take a ton of time to get out the door
But be reliable, safe, and self-aware of known unknowns. What he's seeing when he is talking to enterprises big and small is that there are a lot of use cases that fit the above criteria and are great places to start.
Kristen added that you probably have more data and are more ready than you think. Don't be afraid; take baby steps. For example, she shared how years of working with Glia enabled her team to use interaction transcripts to understand customer needs and accelerate progress.
Integrating AI Into Customer Interaction Workflows
Glia's Jake Tyler, who is responsible for Glia's AI product strategy, followed our guests by sharing advice (and a demo or two) on how organizations can add AI tools into existing workflows through Glia's universal AI Management to
augment agents and support reps to work and solve issues faster,
provide real-time coaching and guidance,
and even use generative AI for internal help desks.
Jake also shared some exciting announcements about Glia Virtual Assistant milestones (turnkey AI for banks and credit unions) and support for SMS and 3rd-party conversations.
Finally, wrapping things up, Emily Wilson shared new banking benchmarking capabilities built into the Glia Interaction Platform, which help banks and credit unions compare their performance to that of their peers and identify areas for improvement.
Our guests and internal speakers shared much, much more—and in a more interesting way than this summary—so make sure to watch the webinar yourself and spark your imagination.