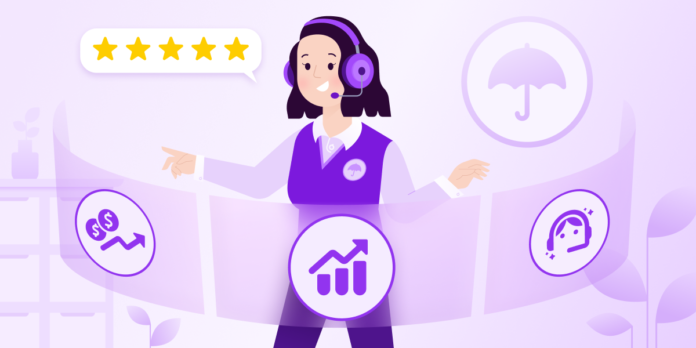 Digital Customer Service Reestablishes the High-Touch Relationship Online
Nothing replaces a personal, one-on-one interaction when it comes to selling insurance products. Policies are often complex and customers typically have many questions. Providing the same level of high-touch, in-person service in an online experience has been challenging. Digital friction leads to high abandonment rates, low customer satisfaction and ultimately lost business. Asking a customer in chat, for example, to call a telephone number to continue the service engagement breaks the digital connection and forces them to start all over again. It's all but asking customers to go find a better carrier, or at least one that delivers better customer service.
But with today's digital lifestyle, going back to a solely in-person, face-to-face model is not an option. Instead, insurers should seek technologies that provide a better digital experience—one that enables one-on-one interactions across all digital channels. Driven by this need, Digital Customer Service, or DCS, is emerging as a new way to personalize insurance online.
By empowering customers to engage via their preferred online channel—chat, voice or video—and easily transition to others, DCS provides a seamless experience that maintains the digital connection. Combined with collaboration tools such as Live Observation and CoBrowsing to help service representatives guide customers through even complicated claims or policy application processes, DCS eliminates friction points and streamlines the online experience.
The high-touch digital approach has direct business benefits, such as increasing application volume, boosting overall efficiency and improving brand loyalty. Once you remove digital obstacles, even long and high volume processes get easier.
Insurers can sell more. DCS allows them to proactively engage customers online and keep them OnScreen in a seamless digital journey. This reduces the abandonment rate and increases conversions. In fact, insurers with Glia's DCS platform have increased the number of completed policy applications by 2 to 4 times, all with fewer errors.
DCS improves efficiency, by accelerating engagements through a seamless experience. Customers can easily connect and are directed to the most appropriate representative with deep expertise. Using Glia, insurance companies have seen a 20% reduction in call times, a 15% to 25% increase in customer satisfaction and a jump in conversions.
In addition to a better customer experience, DCS provides premium agent support to help drive business through the agent network. The same OnScreen assets that guide customers also assist agents. Allowing agents to engage online and quickly find the information and resources they need, with guidance as needed, improves the agent experience. Carriers can even offer direct underwriter engagement.
The analog days of sitting down with an insurance agent to purchase a policy are long gone for most of us. Fortunately, so are the long waits on an IVR to reach a phone representative. And now we are reaching an age where digital service doesn't have to mean disappointing, fragmented journeys that end in chat, only to get pushed back to telephone service. Digital Customer Service has reestablished the personal, one-on-one connection that makes even the most complex tasks easier.
In fact, DCS is reaching a tipping point where those insurers who provide a seamless digital experience will start to outpace those who cling to legacy technologies. Check out our video 'Insurance Carriers and Digital Customer Service' for a more in depth look.