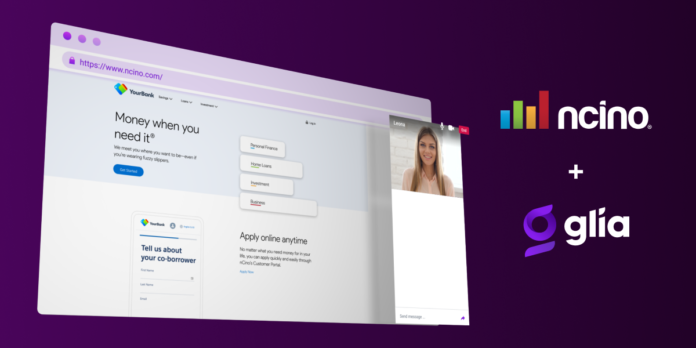 Today's post comes from our partner, nCino, a leading provider of digital banking solutions.
Today's consumers have come to expect fast, frictionless service characterized by convenience and flexibility. But, there are still times when consumers desire high-touch human interactions for more complex experiences without having to come into a branch. Financial Institutions (FIs) that focus solely on speed are missing a key piece of the puzzle: a personal connection. A recent survey from Deloitte indicates that for retail banking consumers in particular, interacting with a real, live human—whether in-person at a branch, or digitally while banking online—is just as important as speed.
This is why it's imperative that FIs find ways to humanize the digital experience they provide their customers. That's one of the reasons nCino has partnered with Glia for Digital Customer Service.
With nCino and Glia, FIs can meet customers online at their desired point of communication, whether that is chat, messaging, audio, or video, resulting in a 14% increase in Net Promoter Score (NPS), a 22% increase in sales, and a 35% decrease in abandonment rates. Glia helps FIs meet customers where they are in regards to their level of digital or financial maturity. While a customer might not have questions on how to open an account online, they may want to engage with a banker digitally to answer questions related to the types of accounts available to open before proceeding.
By combining nCino's powerful Customer Engagement Solution—which provides a completely digital way for consumers to apply for loans and open deposit products—with Glia, FIs can deliver a consistent and meaningful experience that keeps bankers and customers connected no matter what channel the customer prefers.
About nCino's Customer Engagement Solution
nCino (NASDAQ: NCNO) is the worldwide leader in cloud banking. nCino's Customer Engagement Solution marries innovative technology with powerful capabilities, allowing financial institutions to engage with customers seamlessly across all devices. With nCino, bankers provide their customers with a completely digital way to apply for loans, open deposit products, check the status of their products and services and the ability to digitally upload documentation anytime, anywhere. nCino clients have seen up to a 400% increase in online applications within two months post-Go Live.