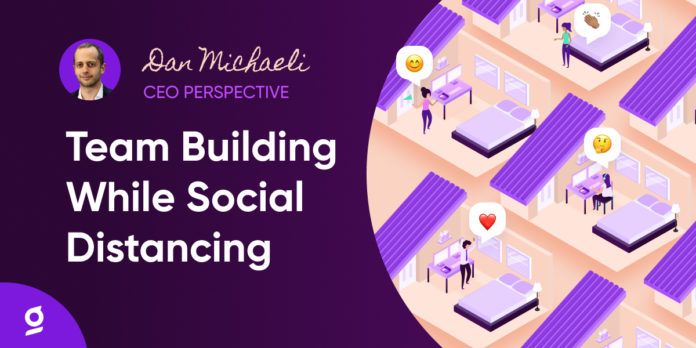 We've spent the last 8 years bridging the Atlantic to bring our teams in Europe and the US together under a unified company culture. Over this time, we've had a lot of practice with communicating, collaborating and socializing at a distance.

As such, during this lockdown period, we've seized the opportunity to use our foundations as a distributed team to do some remote team building. Our talent team has done incredible work, spearheading these efforts and I wanted to share some of the things that we've really enjoyed.

Keep in mind that all of these have been optional for our team, but we've seen great participation and engagement. It's gone way beyond the "Virtual Happy Hour".

Here are a few examples:

MTV Cribs – With everyone working at home, you start to become curious to see their workspace and what is behind the palm tree background on Zoom. Each participant has 60 seconds to give a tour through their home a la MTV Cribs. Folks start at their front door and show-off train hobby sets, kids jumping on trampolines, cute pets and the inside of their fridge.


Team Trivia – 5-10 teams face off in a battle of random knowledge. The host shares his/her screen to show everyone the question and teams have a breakout videochat going to discuss their responses. 15 seconds to respond to the host over chat and scores are tallied up at the end. If you're using Zoom, make sure to share sound as well so the team can enjoy some good pump-up music in the background.


Video Roulette – Randomly assign 2 team members for a 30 min catch up sometime during the week. Each participant does not know who they will be speaking with but they have 3 questions / prompts to ask each other in the calendar invite that they receive. This is a great way to simulate the ad hoc convos happening at the coffee machine or during lunchtime.


Other things we've organized include Book Clubs, Cooking Tutorials and Virtual Games (such as Drawful or Codenames). Locking down is really tough but these activities have been a welcome social outlet for all of us at Glia. The ironic silver lining is that social distancing has actually brought many of us even closer together in many ways.