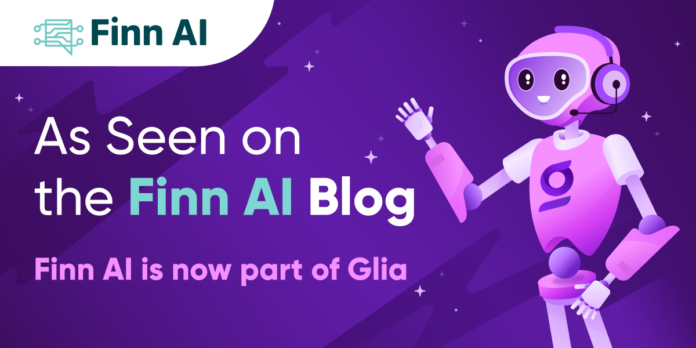 This post originally appeared on the Finn AI blog. Finn AI is now a part of Glia.
Gen Z and Millennials are becoming the most important demographic for financial institutions to consider – and they bank much differently from their parents. With these younger segments set to inherit over $65 Trillion of wealth from the older generations, banks and credit unions must pay attention to how these demographics are interacting with their finances to capture their interest and maintain their retention. New market research has surveyed over 1,000 US banking customers to illustrate some of the ways that Millennials and Gen Z manage their money differently when compared to their Baby Boomer counterparts.
This following highlights are from a white paper brought to you by MX, Finn AI, Rival Technologies and Q2, contains benchmark data from a study focused on exploring the use of financial products and services by Baby Boomers, Millennials and Gen Z. This study also highlights their preferences for digital solutions and their level of trust in these solutions.
For Gen Zs and Millennials, Mobile is King
73% of both Millennials and Gen Zs use mobile devices as their primary engagement channel. The vast majority of these generations are using mobile for everything, and their finances are definitely included. Banks or credit unions that want to be ready for these generations need to make sure that their mobile offerings are up to date, convenient to use, and in-line with the way that these demographics already expect services to be presented on this platform.
Payments are at the heart of this battle. Over 80% of Millennials and Gen Zs are using a Money Transfer App — almost as many as who use a bank or credit union App!
Gen Z and Millennials Would Rather Self-Serve Than Call The Bank
Live, text-based chat has the most generation-wide appeal among all age groups surveyed (47%/63% of Gen Z/Millennials desire it), but Gen Z and Millennials would both rather try to self-serve online (53% of Gen Zs and 42% of Millennials) than call or email their bank. In order to create the best customer experience possible for these two demographics, banks and credit unions need to make sure that information can be easily found on their websites, and that text-based virtual assistance is always available for those who need additional help.
Banks and Credit Unions Need to Work Harder to Please Younger Generations Digitally
The younger the generation, the more likely they are to not be satisfied with their digital customer experience. 25% of Gen Z's and 18% of Millennials are either somewhat often or very often frustrated with their online banking, compared to 12% of Baby Boomers. They have higher expectations for the level of service they should be provided online, and expect excellence at all times. 35% of both Gen Z's and Millennials say the digital experience is an important factor in them choosing a financial institution, so ensuring their experience is smooth and ensuring there are as few reasons to leave as possible is crucial. Making your digital customer support experience as frictionless and convenient as possible is the key to ensuring their satisfaction and retention.
Gen Z and Millennials Feel Unprepared For Their Financial Futures
60% of Millennials say they at least occasionally have feelings of financial stress – student loans, rising grocery prices, and a much lower amount of long-term savings are the most notable sources of strain for both Millennials and Gen Z. Furthermore, many surveyed Gen Z and Millennial users state they feel unsatisfied with the amount of financial knowledge they currently have. The next generation of financial consumers are in need of more help, and banks/credit unions that can provide this assistance to them will earn their trust and loyalty.
There is high interest in virtual assistants among Millennials and Gen Zs to assist in their financial futures. 39% of Gen Zs and 30% of Millennials are interested in automated financial guidance for money management while 31% of Gen Zs and 28% of Millennials are interested in a virtual assistant to help them manage their money
How AI-Powered Chat can help
Conversational chatbots for banks and credit unions can make any financial institution instantly more appealing to a Gen Z/Millennial segment. Chatbots seamlessly integrate on a mobile platform: these younger segments have grown up with mobile texting as a primary form of communication, so banks and credit unions meeting them where they already are is crucial. AI-Powered chatbots can provide intuitive self-service options and 24/7 service, but also redirect customers to live agents when requested in a seamless handover. They instantly add a premium, innovative technology to your digital platform and are proven to increase overall customer satisfaction on your online channels. Finally, Finn AI's virtual assistance adds more layers to the customer service experience, able to quickly answer customer queries and even help users track their financial health.
The Takeaway
Millennials and Gen Zs are banking much differently than their parents' generations, and sooner rather than later their preferences will become industry standards. The next generation of banking customers and credit union members are digitally-focused. They expect convenience and speed, and may switch institutions if not satisfied with their current digital offerings. Financial Institutions must stay up to date or risk losing their share of this soon-to-be invaluable demographic to new innovators who can fill in where needs aren't currently being met.