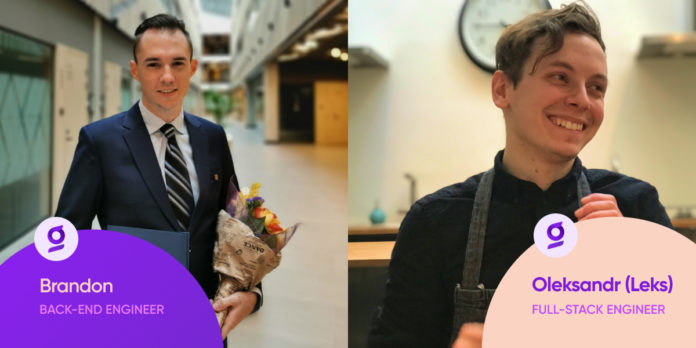 Starting a new job at a new company can be nerve wracking. You're excited to join the team, but it's hard to know what it'll really be like. That's why we sat down with two of our newest engineering team members and are sharing their reflections from their first week at Glia.
Oleksandr (Leks) Kazimirchuk, a Full-Stack Engineer at our Tallinn office, is from Ukraine and has been with Glia since April 2021. Brandon Autrey is a Back-End Engineer from Florida in the United States. He's been with Glia in Tartu since July 2021.
Everyone finds their own path to Glia
Both Leks and Brandon had already lived in Estonia for a few years before starting at Glia. It was the good work-life balance, big tech and startup scene, and the promise of snow (at least in Brandon's case), which initially brought both to Estonia.
Leks: I wanted to move to Kyiv, to the capital, but it was hard because the hiring process and recruitment in Ukraine is complicated. Instead, I decided to try Europe and found a couple of opportunities in Poland and Estonia. There was a video about Estonia on the Work in Estonia website. After watching it, I thought, this sounds fun — and that's how I ended up here in Estonia. 
We are passionate about finding great talent and empowering them to grow with Glia. Some Glianeers are recruited, some apply, but all are incredible professionals who add to the culture of Glia when they join. We really take the time to whittle down the stacks of applicants to find true Glianeers — individuals who choose to apply their unique skills and perspectives to build future opportunities with us. It's why our selection rate rivals those of the Ivy Leagues — and so does the talent.
Brandon: After finishing my Master's in Software Engineering at the University of Tartu and completing an internship and started my job search. I got a message from Carlos [Glia CTO] pretty soon after updating my LinkedIn profile. The interview process was unique. I was shown a demo of the product at the start of the interview, which was helpful, because you can't really get to know Glia's product from the outside. Glia has a good tech stack and was also one of the few jobs I found where they use Elixir in production. I decided that becoming a specialist in a niche language like Elixir would be good for my career.
Leks: I applied to Glia myself. I had been looking for a new job because it felt like I lost the connection with the company and product I had been working with. One day I noticed that one of my ex-colleagues was working at Glia. I saw that it's a SaaS company, which I was interested in because I wanted to get away from marketplace type businesses. I asked my ex-colleague a few questions about working at Glia, liked the answers, and the rest is history.
Less sink-or-swim, more open water swim with a life vest
From day one, collaboration is at the heart of everything we do — after all, it's one of our core values. We are mentors and coaches. We are eager to teach and hear what everyone on our team has to say, so that we can learn from each other. That's why learning and collaboration drive our onboarding process.
Leks: I was a little anxious before my first day, but it wasn't because I didn't know what to expect. My manager maintained communication with me until I joined, so I felt quite confident that at the beginning it would be easy, just getting up to speed. 
From the start, my manager wanted to make sure that it wouldn't be awkward for me to meet new people. Right away he had me jump in and introduce myself to all the teams.
I never feel like I'm just a resource to produce value for the business. I felt from my first day on that I am seen as a person. And I have never felt that I've needed to prove myself, to prove that I can do my job. That's what you get in a collaborative work environment – no one feels as though they need to prove that they are smarter than others.
Brandon: Within the first week we were able to schedule meetings with all of the department heads. You get to actually speak to high level leadership and ask questions. And they ask you questions to get to know you as well. On Fridays our engineering department comes together for "Donuts and Demos" where we present everything we've fixed or accomplished during the week. It was interesting to see that everyone was sharing their work and nothing was kept private. Everyone tries to be open and show what they did.
While the first week at a new company often equates to endless paperwork and waiting for the "actual" work to start, at Glia new team members get a chance to use their skills pretty early on.
Brandon: On my first day at Glia I got my laptop and then I had to set it up with all of the programs. Usually this is done from scratch, but at Glia we use one script which installs everything you need on your computer. The fact that they have a master script like this is pretty cool. My first fix at Glia was actually fixing this tool. It was a minor issue, but it was great to get my feet wet with a challenge like this. I'm still working to keep this up-to-date for the next new hire.
Leks: During my first week I had several meetings with my manager who made sure I understood what I was doing, that I felt good about it. Then, I managed to create a pull request, which is not like a complete task, but halfway through, let's say.
The first steps of growing the future you
We're hungry for knowledge, always looking to master our craft and continually develop ourselves. That's why the onboarding environment centers on learning the "must knows," so that Glianeers can move on to learning the things they want to know.
Brandon: Before starting at Glia I took some time to brush up on my skills, and I'm still brushing up. You can never stop learning and Glia helps with this. The People Ops team has also implemented the use of a learning platform dedicated to going over all the Glia rules and processes, which makes the onboarding process easy.
During my first week I was excited, but I also realized that the tech stack is complex and it will take me time to become proficient in it. When I first started we would do pair programming with a partner to help show how the software works. Plus our tables are in a U-shape, so that we can ask for help from those who sit with us. I also have my mentor, who is very hands-on.
Whether working from the office, from home, or a bit of both, joining Glia puts you in a group of highly skilled and inspiring coworkers. But it's our communication that makes collaboration, learning, and growth possible. We cannot grow without being able to speak to one another.
Leks: I like Glia's overall stand on communication and how important it is to talk to one another. You may bring together the 10 smartest people, but if they can't communicate in a way that everyone feels respected and valued, then there will be no progress. I see that people are actually putting effort into communication at Glia.
We're incredibly happy that Leks and Brandon joined our team. Even though they're still early in their journeys, their contributions are impacting the company we're planning to be in the future. To learn more about applying and working at Glia, visit our FAQs page. For your very own first week at Glia experience, check out our open roles.