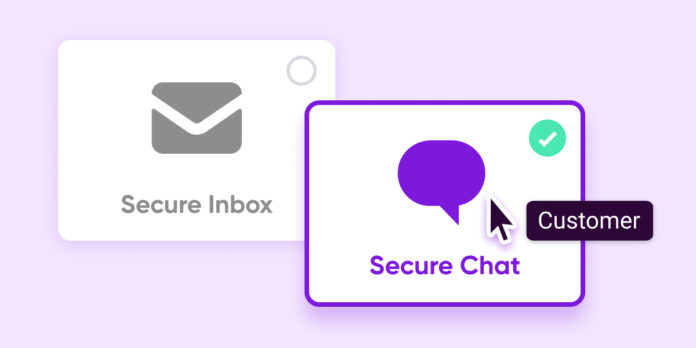 Cyber threats and data security are always top-of-mind for businesses and consumers alike. A changing technology landscape and stricter legislation (like GDPR and California's 2020 Consumer Privacy Act) have led businesses to reassess how information is collected and stored. Since traditional email is not always secure, regulated financial institutions have deployed email equivalent solutions with secure inbox portals on their digital properties where authenticated customers can send and receive email-like messages on a platform that is protected using Transport Layer Security (TLS). But how can organizations balance security with the overall customer experience?
While secure mailbox is…umm….secure, it still has all the inconveniences email has compared to chat. Secure mailbox can require lots of back and forth over several days, leading to a clunky, undesirable customer experience. Most customers prefer real-time engagement versus logging into "yet another" communication system or submitting forms via offline formats like fax or postal mail.
Recently, I had to complete a financial transaction and went through the following steps to communicate with a national banking institution:
Received an email from the financial institution informing me that there was a message waiting for me in their secure email system.
Logged in to the institution's platform, navigated to find the message and follow the instructions for my transaction.
Was directed to call the contact center to initiate my transaction (and spoke to two separate operators).
While on the call was told to print a document, fill it out, and mail it to the institution.
Received another secure email message informing me when the document was received.
Awaiting confirmation that the transaction was completed — likely being sent via the company's separate, secure inbox system.
What if there was a better way?
If this financial institution above had implemented a Digital Customer Service platform, my asynchronous email and near-screen phone interactions could have been turned into a quick digital interaction. The inquiry could have been completed via chat, and the documents securely uploaded to my customer record. All of which would have reduced customer friction, time to complete the transaction, and the number of agents required to process the request. That's a win-win situation for all. 
Chat can be as secure as a secure inbox. Just like secure mailbox, secure chat is protected by security protocols like TLS. Advanced chat supports file transfer as well. That means financial institutions can use chat for many of the use cases where a secure mailbox is used. The immediacy of chat is often preferable to the long delays (hours or days) of asynchronous email, especially for digital native customers. So, why not offer them a choice of real-time chat within your existing secure inbox UI to see what customers choose? If you are already offering chat on your website, it is fairly simple to add chat to the secure inbox UI and offer the customers a choice.
Using Chat for Secure Communication
Glia Chat enables your agents and customers to securely transfer files (forms, documents, pictures, etc.) to and from customers. Files undergo automatic security scans to protect against malicious content and viruses.
Here are some best practices to deploy chat for secure communication:
Offer "Secure Chat" above the 'Send Secure Email' button in your secure mailbox UI.
If agents are available, proactively offer chat to customers who are in the secure messaging section of your website.
If you offer a secure inbox on your mobile app, add "Secure Chat" as an option. If you have not deployed secure mailbox to your mobile app, bypass all the effort needed to support a secure mailbox in the mobile app and use the "Secure Chat" option.
For after hours when chat agents are not available, deploy a bot to handle common form requests or let customers contact you via secure mailbox as usual.
Finally, educate your customers about the "Secure Chat" option and encourage them to use the new option. Conversational SMS campaigns are a great way to educate customers.
Reducing reliance on secure mailbox can be a win-win for all parties involved: customers are happy to have real-time interactions and agent productivity increases, saving your company money! In fact, one Glia client saw reduction of secure inbox traffic by 30% within the first month of offering clients the option of real-time engagement.
Before using chat for secure communication, make sure your chat vendor is not only using TLS (most do) but has end-to-end security for their solution. At Glia, we pride ourselves for putting security at our core.