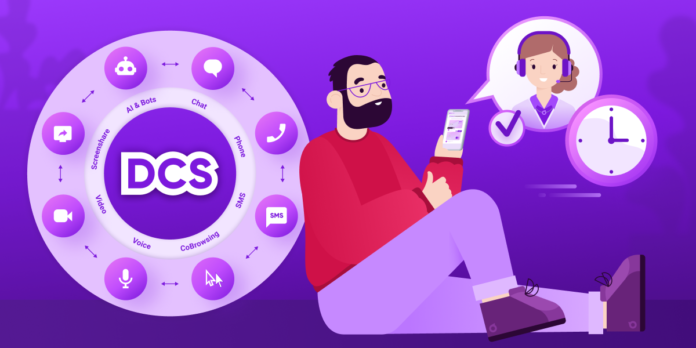 Using Digital Customer Service
Competition for lending opportunities is high, pushing successful financial institutions (FIs) to separate themselves from the pack. The best way to do this is through customer service excellence. According to Morning Consult's Most Trusted Brands 2022 report, 48% of surveyed adults reported that they left their FI due to poor customer service. Further, since 84% of customers start an interaction online, providing seamless Digital Customer Service (DCS) is pivotal in retaining and gaining satisfied borrowers.
True DCS provides one effortless digital engagement that doesn't break the connection regardless of how the interaction starts or goes. There is no need to cobble together a patchwork of disconnected technologies and customer service representatives (CSRs) in different channels, which opens up the likelihood of dissatisfaction and the possibility of abandonment. Glia's ChannelLess™ Digital Customer Service platform and its intelligent routing connect the customer to the right CSR at the right time, without the elevator music.
Lending Challenges
Smaller pool of SMB borrowers. With interest rates going up, it becomes more expensive for businesses to borrow. Many small and medium-sized businesses (SMBs) will likely hold off with any new lending for expansion or growth. This will shrink the pool of borrowers and make lending increasingly competitive.
Potentially increasing delinquencies. Even before the rise in interest rates, many FIs were cautious in increasing lending with the ebb and flow of COVID surges and the subsequent effects on their business customers. While there is an opportunity for greater net interest margin right now, rising rates could also cause businesses to become delinquent or default faster, if they have floating interest rates and didn't plan for sharp increases. This situation puts lenders in a difficult position of weighing increased lending vs. potential loan losses.
High abandonment rates. When competition is tight, it is important to keep customer engagement high. Yet, many FIs find it difficult to get customers over the finish line in the digital lending process. Abandonment rates are as high as 60% within only 5 minutes of online activity, often due to a disconnected experience and/or a complex process. Six out of 10 businesses prefer to apply for a loan on their online lending platforms, so it is vital that you don't disappoint them.
Opportunities with Digital Customer Service (DCS)
Increasing revenue. FIs are looking for more revenue. Higher interest rates push up margins. Yet, with a smaller number of qualified borrowers, that alone may not be enough. With DCS, your institution can convert 4x more online sales opportunities, leading to an average of 70% more revenue. If you can keep your customer engaged, you can close the deal more often. If they leave, you can't. Even if a loan isn't right for them right now, selling other services is also easier with an engaged customer.
Greater efficiency. Contact center efficiency is always important. But when you are competing heavily for customers and there is talk of an economic recession, it becomes mission-critical. With better efficiencies, costs can be more easily controlled and CSRs can better serve customers with lower wait times for greater outcomes. DCS can improve contact center efficiency by 18% with a reduction of repeat calls and lower average handle times.
Higher customer satisfaction. While FIs increase revenue and gain efficiency, customers become more satisfied. With DCS, you can engage with them on their terms — with the ability to transition across SMS, chat, voice, and video effortlessly. NPS scores increase by 20% when customers are interacting in one seamless engagement.
No one can predict the outcome of the competitive lending landscape. Yet, regardless of the outcome, your institution can continue to thrive by keeping your SMB borrowers engaged through Digital Customer Service. For a deeper dive into growing your online conversions, download Increasing Online Conversion Through Customer Engagement.