By now, most people are familiar with working remotely and have found themselves in the position where they need to adjust to the new "norms" within their workforce. A few months ago, most businesses probably considered working from home to be on a special as-needed basis and hadn't thought too much about empowering a large number of remote workers.

However, when the pandemic of 2020 struck, companies had to move their agents home for their safety and well being, leaving them to figure out how to make these new at-home offices as efficient and productive as their contact center locations.

We've created a short video that explains how Glia enables businesses to make the transition from contact center and in-branch agents to productive, efficient at-home reps in as little as one to two days.

You can learn even more about how Glia is enabling remote agents in as little as 48 hours, check out our recorded webinar "Enabling Customer Service In Today's Work From Home Environment".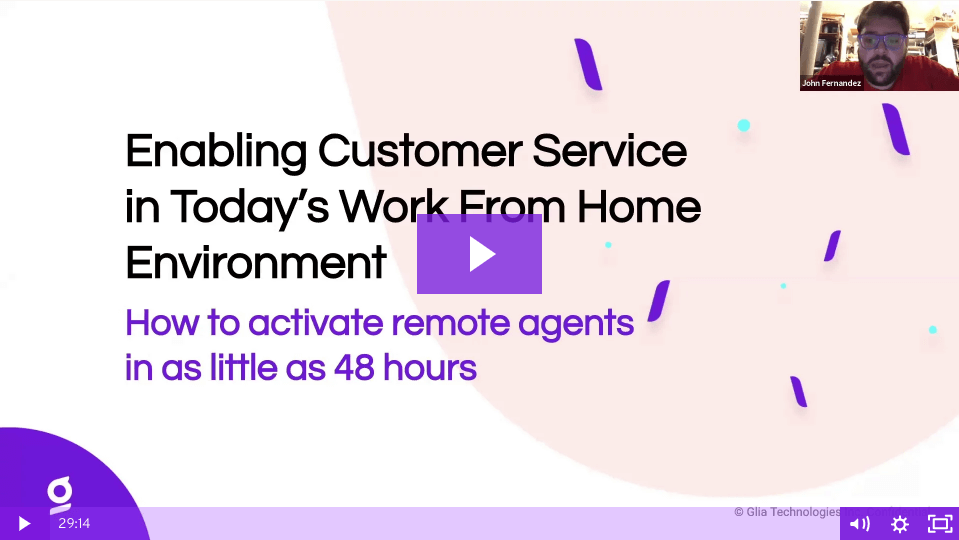 In this timely 30-minute recorded webinar, Glia walks you through home agent enablement including:
Customer communication launch points (and how to handle them)
Inbound phone calls to remote agents
How to enable home agents with existing IVR systems
Guided communication with CoBrowsing
Your next steps
Empowering Your Remote Workforce
If you're interested in getting started with Digital Customer Service right now, request a personalized demo!