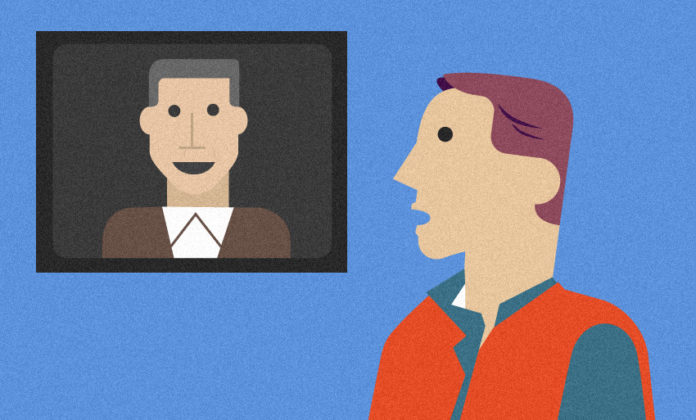 Remember the movie Back to the Future II? Filmmakers created a landscape of what they thought the world would look like 30 years into the future. They got some things wrong (they were only a year off on their Cubs world series win prediction) and there were other things they got just right. In one scene, Marty McFly talks to his boss on a two-way video chat interface. While the filmmakers correctly predicted that video chat technology would be available in the 2010's, they probably never considered the notion that companies would be using it for customer experience interactions.
Evolution
Business-purposed chat programs can be traced back to the early nineties, when large investment banks used homemade chat interfaces to allow their traders to communicate with several people at the same time in the same conversation, resulting in quicker team-based decision making.
As we moved into the next millennium, companies began using public Instant Message networks for internal communication as well as conversations with clients and vendors. However in certain industries like investment banking, regulations did not allow the use of publicly available chat programs. It was at this point that companies like Cisco and LiveChat spotted a need and began providing in-house solutions for businesses.
While IP-based camera chat technology has been around since the 90's, it wasn't until recently that video chat became available as an onscreen option built within company websites. This led to many esteemed business publications naming 2015 as The Year of Video Marketing.
The Power of Video
Live chat programs bring a heavy handful of positives to the customer experience. First and maybe foremost is convenience for the customer. Forrester conducted a study that concluded "44% of online consumers say that having questions answered by a live person while in the middle of an online purchase is one of the most important features a web site can offer." In addition to convenience for the customer, live chat solutions have been reported to increase sales and cut back on expenses.
Will it make an identifiable (and measurable) difference to implement video chat if you already have a text based program?
The Pew Research Center has reported that as of 2013, 21% of cell phone owners said that they had used video chat or video calling on their mobile devices. That's up from 7% in just two years. As you can see, consumers are becoming more and more likely to use video and nothing indicates that this growth will taper off. As consumers become more avid video users, they will likely expect the same level of visual communication when interacting with service providers and customer service departments. In addition, video communication allows for reading and communicating body language. By using video, a customer is also able to put a face to the name (or voice) thereby increasing trust and rapport.
Theoretically, it would seem like a no-brainer to add video support to a customer service team's arsenal, especially when backed up by data-driven examples:
Dan Deitz, the director of ecommerce for Mattress Firm, started using video chat for his customers in 2014. After only a short while, Deitz reported that conversion rates for video assisted sessions could be as much as 10 fold higher than the company's average. He also stated that basket sizes were 25% to 100% larger with video interactions.
An early adopter of video chat was Schuh, a UK based online footwear retailer. Since implementing their video chat service, they claim to have made $1.4 million from video chat sales alone. They have also reported that video chat has resulted in quadruple the conversion rates and 10% higher order values than with just chat.
Conclusion
Is it worth it to add video chat to your channels of communication with your customers? While it's still early to tell, marketing trends seem to point to video being the standard instead of an exception to the norm in the near future. Companies that have jumped in front by implementing video chat are reporting significantly improved sales and conversion numbers. It would make sense to bring video onboard for most companies because if they don't, they may find themselves playing catch-up to competitors that implement the technology.