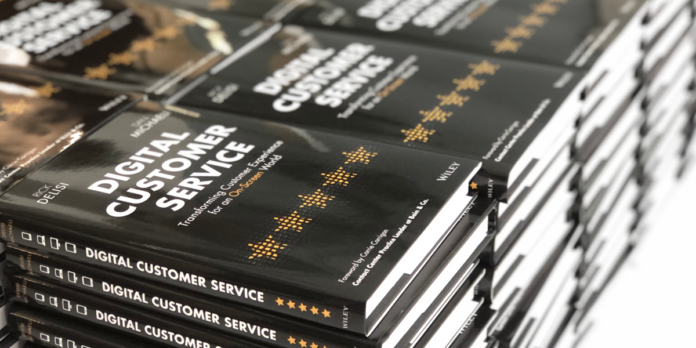 An excerpt from Digital Customer Service: Transforming Customer Experience for an On-Screen World, available now
We have transformed into Digital-First beings, Glia CEO and co-founder Dan Michaeli and best-selling author Rick DeLisi write in their new book Digital Customer Service: Transforming Customer Experience for an On-Screen World. But what exactly does that mean? It almost sounds like the plot to a new science fiction series. But in fact, it describes the digital world that we live in and how we must transform customer service for a Digital-First experience.
In our previous blog, Dan and Rick discussed the importance of meeting customers where they are. Today, that is almost always OnScreen. Here is a book excerpt that delves into our Digital-First lifestyle and why we need to shift to Digital Customer Service (DCS) to meet customers where they are … that's right, OnScreen.
The technology that enables us, and the psychology that drives us are both pointed in the same direction—virtually all of us have become digital-first people now. Most of us live on our screens. All day, every day. The screen is now the go-to place for our primary information, entertainment, and social needs. For many of us, being on a screen is what we do for a living.
We are attached to our screens In every room of the house. And you know what we mean when we say "every" room. Uh huh.
Those who haven't transformed to a digital-first lifestyle by now are getting a little closer every year, or, are just getting on in years.
Therefore, the dynamics of meeting customers where they are and running a Customer Service operation are very different today. But different doesn't always mean harder.
The Service executives and leaders who have been the most successful and will continue to succeed over the next few years are those who see beyond just operational and economic considerations, to truly understand the underlying psychological principles that drive customer behavior and loyalty–and how that psychology has been changing.
Customers have always generally had a negative predisposition to calling Customer Service. And that makes sense, since so many service issues are driven by something that needs to be fixed, adjusted or resolved. Something the customer didn't want to have to deal with in the first place.
But we've been learning that the source of the inherent negativity customers bring with them into Service interactions has been changing.
Instead of their prevailing expectations being based on poor phone experiences they've had in the past, customers are now primarily frustrated by the "disconnection" between their online experience and what happens when they speak to a company representative by making a phone call. This disconnect is now at the core of that inherent negativity. Customers who need to talk to a company representative have to stop everything they were just doing online, and then start all over again by making a phone call. Only to reach an agent who has no idea who they are, what they need, and what they've been trying to do for the past 10 minutes online.
But here's the thing—that is MUCH easier to fix.
Committing to going all-in on re-thinking the way you are providing customer service in a digital-first world is not only more progressive, it's smart business. A study at MIT found that companies that have embraced digital transformation are 26% more profitable than their peers.
And now the technology required to conduct all Service interactions (even those that require a voice interaction) entirely on the customer's screen not only exists, but is already starting to be used successfully—not just by major national or global companies, but even by some smaller regional and local organizations.
As a result, they are dramatically changing the experience of serving their customers—from what was once "a customer service operation that had some digital elements," to a more evolved form—the name of which became the natural title for our book: Digital Customer Service. Through DCS, Customer Service as a function is demonstrating it is possible to (once and for all) finally get digital transformation right. To improve the customer experience AND dramatically decrease the cost of Service—simultaneously.
The firsthand experiences of many DCS companies are shared throughout the chapters, and we hope you will gain a sense of confidence and reassurance from hearing their stories and seeing the kinds of results they are already achieving through committing to a digital-first Service strategy.
So now we see that transforming into Digital-First beings is not sci-fi futurism. It's leveraging digital technologies in a smarter way. Our customers are already there and looking for better customer service. Isn't it time we met them where they are, which is now almost always OnScreen? The book provides more insight and strategies for Digital Customer Service for a Digital-First world.
Take a look at previous book excerpts Now It's Our Turn, Meeting Customers Where They Are, and "Phone" And "Voice" Aren't the Same Thing here on the blog. And stay tuned for our next excerpt Added Bonus: DCS is More Secure next week.
Learn more about the book Digital Customer Service: Transforming Customer Experience for an On-Screen World and order your copy today!