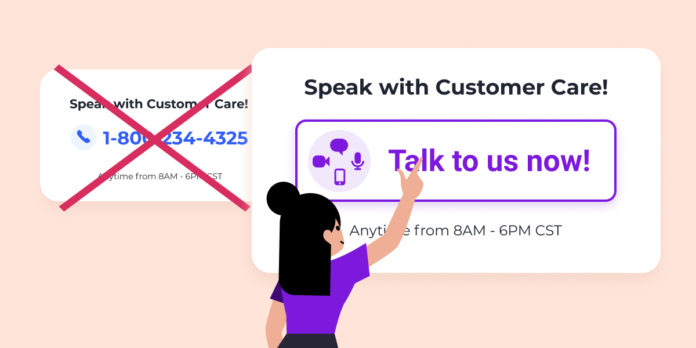 Prioritize Digital Customer Service for a Better Experience
In today's increasingly digital world, customers have come to favor online service options available from the convenience of their screen. From chatbots and self-service features to digitally connecting to a live agent with a simple button click, companies aim to deliver a digital customer experience that is personal, seamless, quick, and efficient.
So why are we still encouraging customers to break that digital connection and make a legacy telephone call for support? Sure, the corporate 800-number still serves a purpose, especially for non-digital situations such as support for an in-store credit card issue. But the vast majority of customers today begin their experience on or near a device. Does your site really need a phone number? There are significant benefits in keeping them within your digital space.
Customer-Centric
For most, the customer experience starts on a company website, mobile app or a self-service portal. And digital channels are only becoming more popular. A Microsoft study finds 90% of respondents expect an online portal for self-service and 69% surveyed by Salesforce actually prefer chatbots for quick communications.
Customers are clearly stating their preference and it's overwhelmingly digital. Especially among younger generations. Consider recent research from Bankmycell, which found 81% of millennials experience anxiety when summoning up the courage to make a phone call. That's a generational aversion that goes beyond the mere inconvenience of making a call.
As it turns out, older generations aren't any fonder of phone calls. A study by Provision Living found that boomers made even fewer phone calls than millennials on their smartphones. Offering more favorable ways to connect can greatly increase service engagements and improve the overall customer experience.
Go With the Flow
The waning popularity of phone calls aside, there are tremendous benefits in providing Digital Customer Service. First, you remove a key friction point by keeping online customers in your digital space. How many customers simply never make the call when you offer the company phone number?
More importantly, Digital Customer Service can provide an uninterrupted experience, even as customers move from one channel to another. No need to call a number, re-authenticate and explain yet again the issue when a chatbot is unable to help further. With Digital Customer Service, customers can easily connect to a live agent through live chat, digital voice or video. The agent is able to see where each customer is within the continuous digital engagement and knows exactly how to help.
Best of all, Digital Customer Service enables collaboration features, such as screen sharing and even CoBrowsing to help agents guide and quickly provide the support customers need. No need to tell the agent over the phone what your screen looks like. The agent can see and even help with tasks, such as filling out forms or even clicking on a weblink.
Replace, Don't Remove
Of course it feels counterintuitive to take your corporate phone number off your website, service portals and mobile apps. If we are trying to give customers multiple ways to connect, then why take an option away?
In reality, you want to replace your corporate phone number with a digital voice button, not remove the phone option altogether. Consider the convenience of simply clicking a button to speak with a representative rather than making a phone call. Plus the customer stays within your digital space, allowing for a seamless engagement. Add in CoBrowsing and you see the potential to not only service requests, but also offer a positive digital experience that ultimately can build loyalty, boost sales and enhance your overall brand equity one customer at a time.