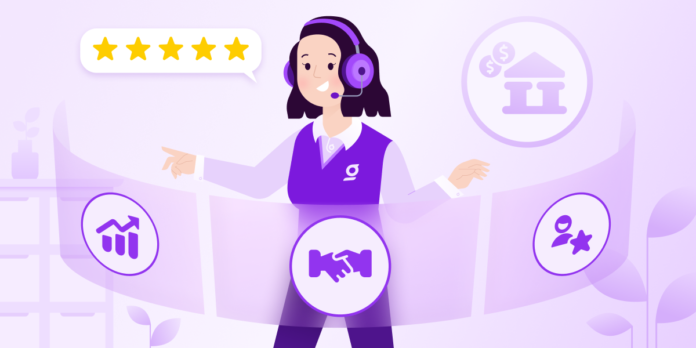 Personal loans have boomed in recent years. In fact, the existing personal loan debt was $209.6 billion by Q3 2022. Double-digit growth has expanded the market to include a broad range of providers, including niche lenders and even credit card companies.
With an increasing number of competitors, it is important to attract and retain the right lending customers. But, how can FIs effectively win them over?
1. Up Your Customer Service Game
With a variety of personal lending organizations for customers to choose from, organizations need to deliver flawless customer service. Not only are consumers looking for a good interest rate and low fees, but also for an easy and streamlined way to access capital. Ensuring that they find exactly the right loan at the right time and complete the application in one engagement is a tall order but an essential one. Providing self-service along with stellar live representative support to guide the customer through the application process lowers abandonment rates and increases conversions. To successfully achieve this level of service, customers should have the option to use their channels of preference with easy transitions between them all. Using Digital Customer Service (DCS) with customer-facing portals, websites, and mobile apps gives personal lending institutions the tools they need to support consumers effectively through all channels seamlessly for optimal outcomes.
2. Solidify Relationships
Once you have customers, you don't want to lose them. Research has found that investing in new customers is between 5 and 25 times more expensive than retaining existing ones. Nurturing customer relationships can increase satisfaction while expanding the number of offerings per customer through cross-selling and upselling. One survey found that an existing customer order is 31% higher in value than that of a new customer. Not only that, but a solid relationship also ensures that lenders find out if there are issues with loan payments before it is too late. Assisting customers through native mobile, SMS, and chat with relevant, timely advice would likely lead to greater loyalty too.
3. Exceed Expectations
Another way to win over lending customers is to exceed their expectations. For both potential and existing customers, using on-screen tools, such as chat with Live Observation, and CoBrowsing, gives lending institutions the opportunity to proactively engage and satisfy visitors and customers. Providing the tools to service your customers and prospects remotely when they can't make it into the branch (such as remote closing using video and CoBrowsing) ensures you are maximizing your NPS. Leading them on the right path of their digital journey for an effortless experience will exceed their expectations, which is what customers ultimately want.
As the economy continues to wobble, demand for personal loans is likely to continue. Satisfying the needs of both current and potential customers allows lenders to increase overall satisfaction and take a bigger piece of the pie. DCS gives lending institutions the tools to do this.
To learn more about how to use Digital Customer Service to gain and retain personal lending customers, watch this video.