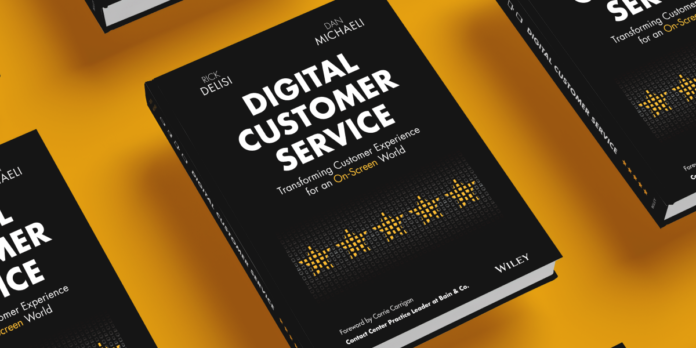 Glia is proud that its recently-released book "Digital Customer Service"—co-written by Glia CEO Dan Michaeli and Rick DeLisi (co-author of "The Effortless Experience")—has been ranked among the top 10 business books of the past year by Forbes.
The book demonstrates how blending technology and psychology can enable organizations to transform interactions that used to happen exclusively on the phone, into live OnScreen conversations. It details why it is so important to meet customers where they are—on their own screen—and how to deliver positive online experiences through Digital Customer Service (DCS). The book also explores the history of Customer Service, from the days of the first call centers in the early 1980's all the way to today's digital-first world.
Digital Customer Service joins the ranks of works by such other noted authors as Fred Reichheld (creator of NPS, the Net Promoter Score) and CX thought leader Dan Gingess (bestselling author of The Experience Maker).
The Forbes review of "Digital Customer Service" includes the following:
Since its release in September 2021, the Digital Customer Service book has received overwhelmingly positive reviews on Amazon:
"A good book for middle managers up to C-level for transforming the way they think about and organize their customer service/support! The book also provides a nice overview of the history of customer service and how we got to the point where we are now and where we can be in the near future."
"Not your typical dry or self-indulgent book. The combination of practical advice with humorous anecdotes and illustrations had me glued to the pages. Definitely worth a read if you care about your customers."
"A great read for executives, leaders, and anyone whose job has to do with customer experience. It has a realistic view of how digital transformation can be a hard step to take, but at the same time describes how enormously beneficial it can be to customers, agents, executives, and businesses in general."
"This book transformed my perspective on DCS and even dispelled inaccurate assumptions I had with data-backed evidence. I feel equipped with the understanding I need to make informed strategic decisions regarding digital strategy. I recommend it to any leaders in this space!"
View excerpts from the Digital Customer Service book and learn more here.
For Glia clients who have not yet read the book we would be happy to send a copy at no charge. Contact your Glia representative to request a copy. Thank you to all those who have shared their feedback, and for those who have not read the book yet, we look forward to hearing your thoughts and reaction.