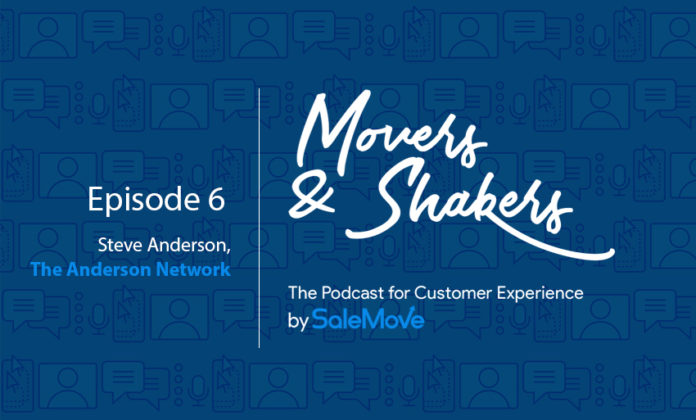 When it comes to the insurance industry, the most important values that should be nurtured between the agency and customer are trust and loyalty. But what if you have a hard time building trust and loyalty?
According to a 2015 report by Accenture, this may very well be the case in the insurance industry – where churn totals as much as $470 billion (in Life and Property & Casualty premiums) globally as a direct result of a poor customer experience.
So, what can the insurance industry do to improve the customer experience?
In the latest episode of our podcast, Movers & Shakers, our CEO Dan Michaeli chats with influential insurance thought-leader, Steve Anderson, about the unique challenges the industry faces with regards to delivering an outstanding customer experience. 
Steve Anderson is the president of Anderson Network, an authority on insurance productivity, technology, and profits, and the Executive Editor of The Anderson Agency report, a monthly electronic publication that contains practical up-to-date information for maximizing insurance technology investments. He's also a highly sought-after keynote speaker.
What is Customer Experience?
While everyone has their own definition of customer experience, Anderson defines customer experience as "how a business makes their customers feel." He adds, "People won't remember what you do, won't necessarily remember what you say, but they will remember how you treat them." From Anderson's own experience, it's about being able to identify customer touch points and making customers feel cared for.
Challenges of Insurance Industry in Customer Experience
According to Anderson, many of the customer experience challenges faced in the industry are due to the unique situation whereby physical goods are not being sold. In the insurance industry, "Consumers are buying a promise that they'll [the insurance agency] make me whole if I suffer a financial loss, be it a car accident, or fire in my house, or I get sick and go to the doctor."
But, while the challenges might be unique, Anderson thinks that the challenges faced by the insurance industry in providing a good customer experience are not so different from the challenges other industries face. He says that it's important insurance focuses on, "changing consumer expectations."
The fact of the matter is that every industry is concerned with which touchpoints are most ideal for interacting with their customers. But in the insurance industry, customer touchpoints focus on matching a unique financial product to consumers. This is affected by the fact that insurance packages are not physical products. In other industries, a value transfer of the product can take place, which affects the customer experience. This is not the case with insurance, however.
Guided Conversations
A good portion of the conversation between Dan and Steve centered around a new product Steve was working on launching called Guided Conversations. Guided Conversations leverages artificial intelligence to chat bots to make the policy renewal process easier for the customer.
The focus of guided conversations is to help insurance agents/industries interact with customers in a way that is cost-effective, while providing a better customer experience at the same time.
If all goes well, Guided Conversations will begin the process of policy renewals for live agents by sending an automated communication to policy holders 30-60 days prior. Once engaged, the policyholder will interact with a chatbot that asks a bunch of qualifying questions about any specific changes in the last year that may affect the renewed policy.
Guided conversations are defined by Anderson as a "decision-tree type conversations". In practice, it involves taking and customizing conversation patterns using a digital platform. Guided conversations are not yet on the same level of technology as machine learning, but they're also not far off.
The insurance industry takes different areas into consideration when developing guided conversations. Anderson pointed out that questionnaires are sent through email, where consumers can easily complete on mobile devices. Customers' answers are sent back to their insurance agents in an accessible format like PDF. The PDF will include a summary of their answers and possible gaps that should be addressed based on their answers.
The innovation of guided conversations will be able to help identify and perfect the various touch points of consumers in the insurance industry. As a result, it can give a lot of insight with regard to customer experience opportunities, maximizing the overall customer experience.
Overall, Anderson says that the future of customer experience in the insurance industry (and in general), is all about "creating and building a long-term relationship."
What are some of the customer experience challenges you're dealing with in your industry or business? We'd love to hear your thoughts in the comments below, or by tweeting at @GliaInc.