A year into the pandemic, we look back at how Glia challenged the chaos of COVID-19 to create the most resilient team on either side of the Atlantic.
Glia is where it is today—one of North America's fastest-growing companies and the pioneer of Digital Customer Service—because of our exceptional people and a culture of relentless collaboration.
When COVID-19 hit, we knew that supporting our team through the challenging time would become a top priority. One year later, we're ready to share our experience.
Here are five big things we learned that are helping us make sure Glia doesn't just stay a great place to work, but keeps getting better through challenges.
1. Communicate with clarity and purpose
Our first order of business at the start of the pandemic was to communicate to our teams what was happening and what it meant for them and for the company.
Our people come first. So, the message was straightforward: "We're here for you."
The world (and the US in particular) was seeing record unemployment levels, but we confidently explained that this wasn't going to be the case for any Glianeer. We checked in with each other about our families and friends. We made it crystal clear—we're in this together; if you need anything, please ask.
Then we communicated our big ask—living up to one of Glia's guiding principles, "Complexity presents opportunity".
In an all-hands meeting in the early stages of the pandemic, our CEO Dan Michaeli reminded us what that means:
"Difficult situations don't deter us—they excite and unite us! We are made for moments like this… This is what makes Glianeers special."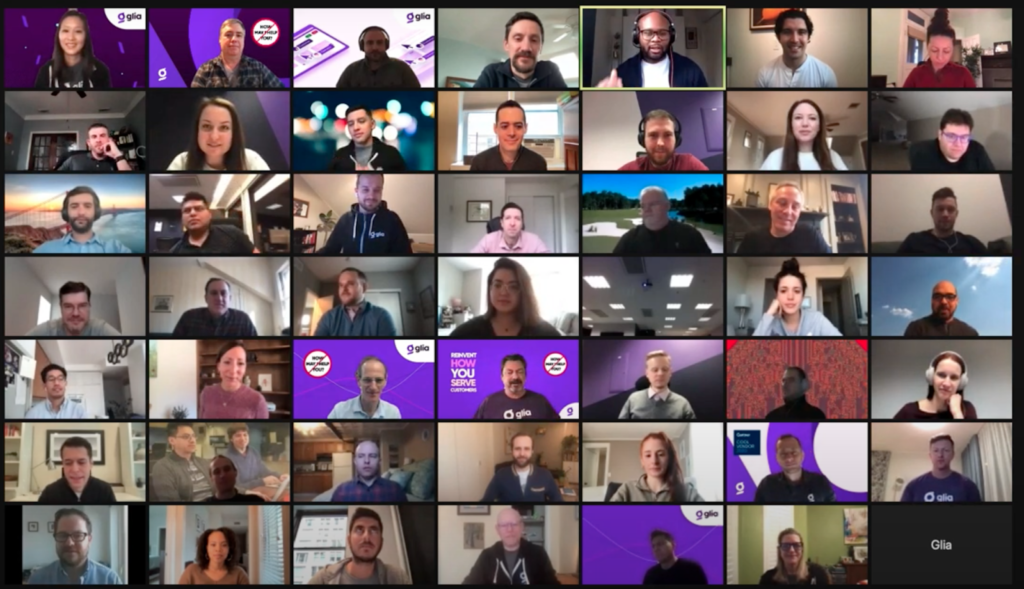 We knew that together we could do things we had never even imagined before. COVID was forcing in-person interactions to cease. Meanwhile, we are in the business of reinventing how people and business interact, specifically creating a very human experience in the digital space. We were being presented with an amazing opportunity to show just how impactful we could be. Our persevering team was ready to open that door of opportunity.
To keep growing in this new world, we couldn't just do what we assumed might work. We're not just throwing words around when we say we foster a deeply collaborative culture, so one of our priorities was to find out what the people really needed. We created a task force—the Antibodies—to monitor the events happening locally and around the world and suggest new procedures to keep our people safe.
Having team members volunteer to take ownership of the situation allowed us to react to changes quickly and decisively. Ultimately, it meant that no one was in the dark about what was happening and what to expect, and everyone would be heard.
2. Give people what they actually need
Through actual conversations with people, we were able to make sure our Glianeers got what they needed to work from home.
Some team members missed their second monitor, and there were lots of desks, chairs, and other items that needed to make their way to Glianeers across the world. We ensured that everyone was able to get the necessary equipment in order to succeed. By keeping communication ongoing, we found that some people couldn't work from home; so, we created designated safe working spaces for them in our offices.
Just the basics weren't enough to create a work environment that lends itself to the kind of mastery and collaboration Glianeers are used to expecting from themselves and each other. So we poured our heart and soul into not just making sure our people were adequately equipped—but that they were empowered. For all the extra screen time, for example, everyone was able to get blue-light filtering glasses if they needed them. And because adjusting to pandemic life means so much more than just a comfy workspace, we made sure everyone knew we also offered financial support for mental health services.
3. Stay flexible—for real
As home and work lives converged and lines became blurred, our job was to make sure work fit into people's new lives as smoothly as possible.
It's distressingly common for companies to say they're flexible when they really mean "You can work whenever… As long as you're online from 8 to 5, in this specific time zone. But other than that, up to you!" This never contributes to an environment of mutual trust. And it definitely doesn't work in a pandemic, when people are home with their spouses and children, trying to make sense of their new routines.
At Glia, we created true flexibility for people to build their work schedule around their lives. Some may be working from tiny islands off the Estonian coast, some are bending their work hours around kids, and some might not even have changed that much about their arrangements. But the fact of the matter is that many Glianeers, engineers in particular, are reporting feeling more productive as a result.
4. Create genuine human connections
For our flexible arrangement to work as intended, we needed to keep creating touchpoints. As a communications company, we'd be missing the mark if we didn't put a strong emphasis on communicating well with each other. And as a collaborative organization that knows we're stronger together, we had to redefine what "together" looked like.
Like everyone else, we saw a massive spike (300%, to be specific) in Zoom calls. But beyond the practicality of simply needing more video calls, we wanted to create meaningful moments of connection. We built social time into meetings or scheduled social calls to give people the space to feel close to each other. Monday Morning Meetings became the time we could all be together, gaining energy from each other and from the leadership team, who consistently pointed to our vision through the trying times.
We couldn't forget our new hires—we grew our team by nearly 50% globally through the pandemic. This generation of Glianeers still needed an onboarding experience that was as impactful as it would have been in the physical space. In addition to team swag and top-of-the-line tech delivered to their door, each new team member has a Glia Guide, a buddy to support their process and answer any questions. Through seamless onboarding experiences that moved fully online but still included plenty of human interaction (like messages from the CEO and people ops), we made sure that fresh Glianeers got off to a smooth start.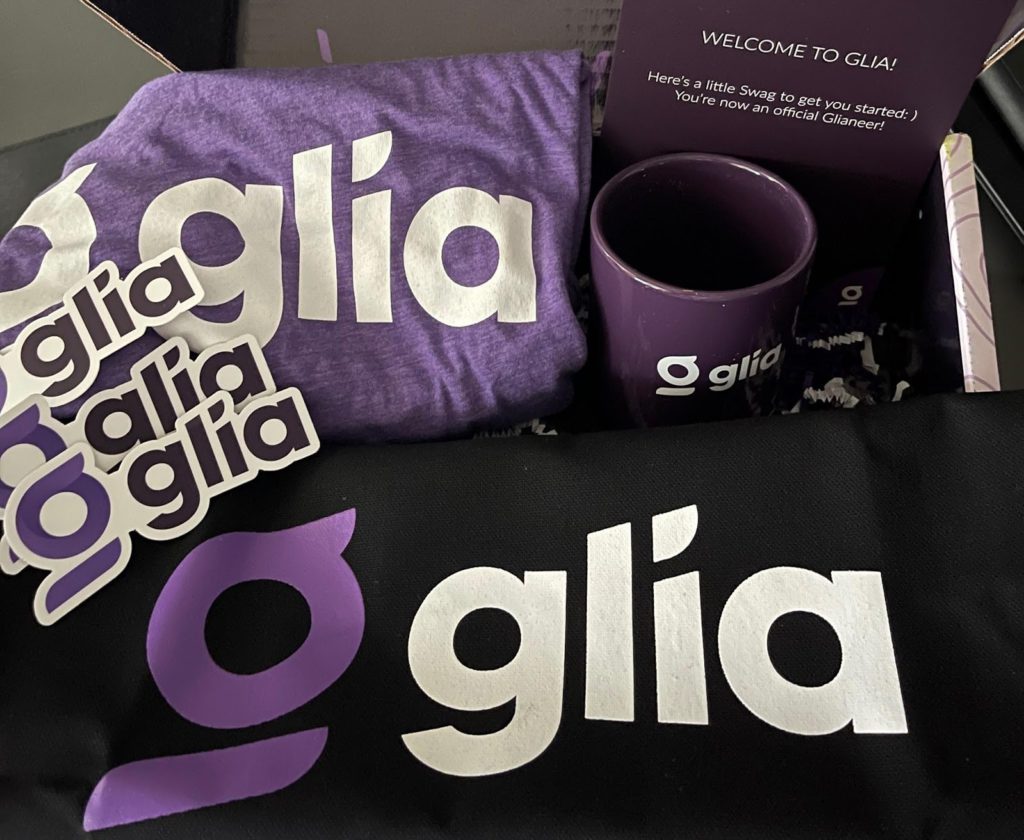 5. Find the WOW
Even when a global pandemic drives us all fully online, we're still human, with the same social and emotional needs as ever. We had to go above and beyond to make sure people could rely on Glia as not just an employer, but a real partner.
So, we did what Glia always does: We rewrote the rulebook. Literally. We hosted game nights and changed the rules to every game, to take them from just another work thing you had to do, to wow-moments full of unexpected twists. Team trivia with multiple, simultaneous video calls and the rush to get your team ahead tested our collaborative skills, but most importantly filled our spaces with excitement and laughter. It was a way to fight chaos from the outside—by creating a new, fun kind of chaos we could manage. Through these game nights and activities that launched us out of our comfort zones in the best possible way, we took the passion we have for our work and applied it to having fun together.
We also found ways to bring the "wow" into our day-to-day. To show our people how much we value their ongoing perseverance, in the fall we got everyone personal scooters to get around in style (and maintain a safe distance!). Earlier this year, we sent every Glianeer a plant to symbolize us growing together as a team and as individuals. These small, quirky, and quintessentially Glia touchpoints reaffirmed our sense of belonging and reminded us of what we could achieve together.
Today, the world is still not settled on what the "new normal" is. For now, uncertainty is still the only constant, especially as our Estonian offices face a new wave of lockdown.
But while the world may not be settled, Glia's people-first approach is. The complexity of COVID-19 was our opportunity to create an unshakeable foundation for the future we're building.
Glia is on a wild growth trajectory, reinventing the way humans communicate with businesses. Come join us! Which one of our open roles is the one that gets your heart racing? Check them out on our careers page.