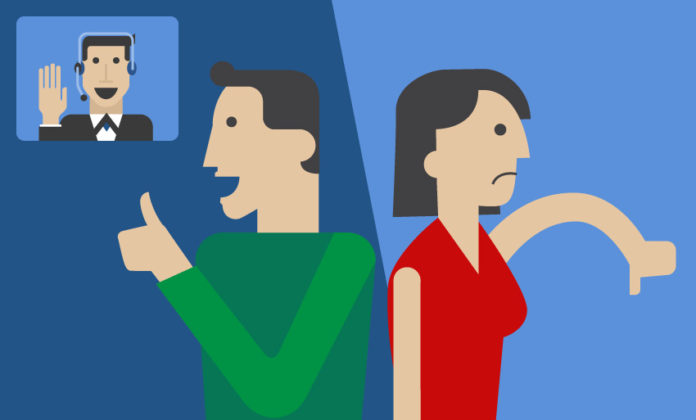 According to a 2016 Accenture Global Consumer Pulse Survey measuring the experience of 24,489 customers in 33 countries across 11 industries, "52% of consumers have switched service providers over the past year due to poor customer service". In the United States alone, Accenture claims that the estimated cost to companies for customers making this switch is $1.6 trillion in lost revenue.
But, what do these customers mean when they cite poor customer service as the reason for leaving? The same survey shed light on that question with the following statistics:
73% expect customer service to be easier and more convenient; 61% expected service to be faster.
Let's face it. We live in a day and age where burritos can be delivered by drones. Apps are being developed that allow insurance customers to file a claim from the site of an accident without even having an adjuster come out to inspect their vehicle. With that in mind, it's no small wonder that things like sitting in line for fifteen minutes at a bank drive-thru teller seems almost archaic. The technology exists today to provide real-time resolutions for many customer service issues, and customers expect their providers to offer those solutions.
83% of the "switchers" said that better live or in-person customer service would have impacted their decision.
In a recent Forbes article, customer experience consultant Swinscoe noticed that "much of the agenda and talk has been about digitization and the increased use of new techniques and technologies including predictive analytics, programmatic marketing, personalization, robotics, automation and artificial intelligence (AI) and how firms can use them to both improve and personalize their customer experience."
Swinscoe goes on to say that while these developments and their possibilities are interesting, he was surprised to see how little focus was put on "the human role and how it fits into this fast-evolving world of high-tech customer experience."
Taking the findings from the Accenture survey into consideration, the numbers clearly tell us that speed and convenience along with a human touch, are the key building blocks needed to build the customer experience that today's consumer is looking for. How does a company offer a suite of real-time digital solutions without sacrificing  human touch?
The answer is to construct a recipe of channels that covers the entire spectrum of customer expectations. Since inception, Glia has been working to put solutions together that work across multiple industries while providing customers with channels that they can use individually or in tandem. Here are the ingredients to the Glia recipe, based on four years of data-driven development.
Chat
Glia has found that real-time, on-site chat results in a 32% ROI. On one hand, on-site chat is a classical juxtaposition of real-time convenience and high-touch human interaction. On the other hand, many companies have incorporated on-site chat into their websites, and consumers are starting to realize that the quality of the chat experience relies on the quality of the software and the ability of the agent on the other side of the screen. When combined with other solutions, chat ROI numbers increase significantly.
Audio
There are two great things about a phone conversation.
Firstly, whether it's over a handset or a browser, when a customer hears a competent and sincere voice on the other end of the line, the customer's confidence in authenticity is bolstered. If you have ever used a chat-only experience as a customer, you would probably agree that at times it can become obvious that pre-written responses are being copied and pasted. A live voice breaks down the authenticity issue and makes the customer feel less like they are talking to a bot and more like they are in an engaged interaction.
Secondly, the customer gets to feel like their own voice is being heard. Sometimes in moments of frustration or confusion, it can be difficult for prospects to communicate their concerns with the written word. It's at these times that the customer really just wants to be listened to. Glia has found that audio channels have a 28% ROI over chat alone.
Video
In a study by the University of Pennsylvania, it was concluded that 70% of communication is body language. Posture, facial expressions, and eye contact cannot be communicated over chat or audio. That same study found that 23% of communication is tone and inflection and the remaining 7% is the words being used. A real-time video conversation allows non-verbal cues to play a sizable role in the conversation, a vital part of 'reading' a customer's interest or frustration level. Video communication has a 56% ROI over chat.
Chat and CoBrowsing
Chat and CoBrowsing allow a customer the ability to communicate their questions and concerns in real-time while also being personally walked through the appropriate solutions available on a provider's web-site by a representative. CoBrowsing can give a customer the feeling of being guided through a virtual showroom of offers and solutions without making it feel like a pre-recorded "virtual tour." These two tools line up very well with each other and because of that, the combining co-browsing with chat provides an ROI that is 69% over chat alone.
Audio and CoBrowsing
Going back to the advantages of audio interactions (tone of voice, personalizing the message, etc), when we combine a voice conversation with CoBrowsing we see a 78% ROI over chat. Not only does the visitor feel they are having a customized experience, they are also free from the boundaries of communicating by typing, One of the disadvantages of chat is the lag time it takes between questions and answers due to slower communication via typing. Incorporating an audio conversation with CoBrowsing allows for a much more streamlined customer experience.
Video and CoBrowsing
At this point, it is probably going to come as no surprise that Glia has found that video interaction, combined with CoBrowsing has a 138% ROI over a singular chat channel.
While CoBrowsing provides a high-touch and richly engaging experience, when combined with video the customer now has a face and a voice to put to their agent. While there are so many communication options available to customers and companies these days, many of these options do not solve the problem of allowing the customer to put a face to a name online. Video communication solves that problem, and when combined with CoBrowsing, it allows agents to create an experience that addresses both of the main concerns addressed in the Accenture survey.
In Conclusion
Recent marketing data is showing us that customers across all industries want convenient and speedy solutions; however, they do not want to sacrifice human touch and interaction. The only solution is to have a multi-channel platform that can be adjusted to each customer's needs and desires. It's becoming clear that it takes more than just an on-site chat service and a phone number posted on the contact page of a web site to keep up with the ever-evolving customer profiles we see dominating today's market. Fortunately, solutions are available that blend one-on-one customer interaction with efficient anywhere, anytime services.